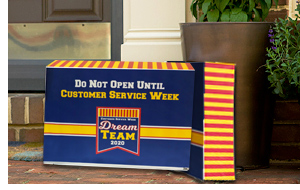 If you need decorations and gifts for your in-house team, a special "thank you" for remote staff, or materials for your entire organization, you'll save with early bird discounts from CSWeek.com.
Still not sure how you will be celebrating this year? At CSWeek.com you'll find sample agendas for remote and in-office celebrations, an Organizer's Guide, ready to use puzzles and activities, plus decorations, gifts, stress relievers, and our new Celebration Kits.
The kits are delivered directly to individual reps no matter where they are working. They provide a thoughtful way to thank everyone for their commitment during these challenging times.
Order now and save with early bird discounts.