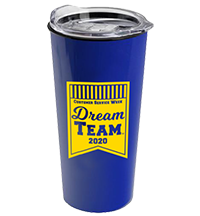 Recognize and reward your service teams for their extraordinary efforts during the pandemic with gifts selected especially for front line reps. The Customer Service Week Gift Guide will point you in the right direction.
A good rule of thumb is to select gifts with the Customer Service Week logo. This ensures that the event theme and message will remain in sight long after the official celebration has ended. Customer Service Week gifts fall into five basic categories:
For Busy days — Provide the tools your team uses every day such as Sticky Notes, Pens, Mouse Pads, and Note Pads.
For Stressful Times — Show your team that you understand the pressures of service work with stress relievers such as Fidget Pens, Bead Filled Stress Balls, and Stress Relief Putty.
For Break Time — Keep your team refreshed and hydrated with Lunch Totes, Mugs, Water Bottles, and more.
For Team Spirit — Encourage team spirit with colorful Wristbands, Logo Pins, Spirit Pennants, and Pom Poms.
For Recognition — Recognize everyone's contributions with Thank-You Cards, Service Awards, and Certificates of Appreciation.
For Remote Staff — Keep your team connected and engaged with celebration kits delivered directly to their home offices.
All of the gifts at CSWeek.com feature the Customer Service Week theme: Dream Team™.
The theme reflects the importance of teamwork in providing outstanding service to all customers. If your team has embraced new work arrangements, if they are passionate about what they do, strive for excellence, adapt to change, and value teamwork, then your service team is truly a Dream Team ™ .
Celebrate your Dream Team ™ with gifts created just for them.