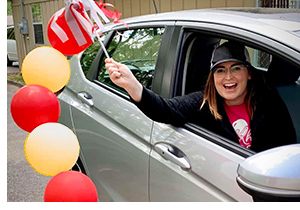 This year, celebrating Customer Service Week presents some unique challenges. So we asked some of the many people who have celebrated with us over the years to share their plans. They are celebrating in the office, remotely, and with meet ups at special locations.
Here's what they said:
"We are celebrating in the office. We provide essential service so we've been here throughout the pandemic and we are so looking forward to the week."
"I have 10 reps on my team. Everyone worked in the office until March. On Monday, I'll be driving to the home of each rep to hand-deliver a Celebration Box. And I'll decorate my car with balloons and pennant strings."
"We're all local so we are planning to meet for dinner at a downtown restaurant that has an outdoor patio. I'm making goodie bags with lots of stress relief gifts for everyone to take home."
"I'm ordering the Stress Relief Kit for my group. Everyone will also order their own lunch through Grubhub (my treat). The lunches will be delivered, then we'll jump online for lunch and to open our gift boxes."
More creative suggestions from the frontlines will be in the next issue.
If there are others on your team who will be involved in planning for the week, please invite them to sign up for the CSW Bulletin, or to follow us on Facebook and LinkedIn.