The 2020 Customer Service Week theme is Dream Team™. The theme is colorfully illustrated in a red, blue, and gold logo and is imprinted on a wide-range of exclusive decorations, gifts, rewards, stress relievers, puzzles, handouts, and more for use during Customer Service Week 2020.
The theme reflects the importance of teamwork in providing outstanding service to all customers. If your team has embraced new work arrangements, if they are passionate about what they do, strive for excellence, adapt to change, and value teamwork, then your service team is truly a Dream Team ™ .
We invite you to celebrate your Dream Team™ during Customer Service Week, October 5-9, 2020.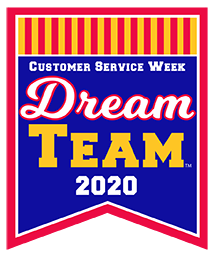 Your responsibility as a celebration planner
The Customer Service Week logo is the symbol that gives the week a distinctive and recognizable image.
As a celebration planner, you are part of the Customer Service Week image-building process. We rely on you to ensure that the logo is not used in any way that diminishes its value, impacts negatively on the program, or violates trademark law.
The logo may not be reproduced on posters, banners, balloons, or any dimensional items such as gifts, rewards, and stress relievers.
The logo may be used in the following ways:
Posted to your company internet site, intranet site, or social media sites to announce the week and your participation.
Printed in your company publications to announce the week and your participation.
Printed on limited materials used during your celebration. This includes invitations, agendas and announcements.
Included in emails to announce the week and your participation.
Incorporated into baked-goods served during your celebration. This includes cakes, cookies, and cupcakes.
The shape, colors, and typeface used in the Customer Service Week logo were carefully selected. You may not stretch, condense, reshape, change the colors or alter the logo in any way.
By downloading these logos, you are agreeing to the above terms and conditions of use.
Customer Service Week logos
If you wish to use the logo for any other purpose or in any other format, you must have written permission. Please download and complete the Logo Request Form below and send to msdewitt@CSWeek.com:
Logo Request Form (PDF)