Customer Service Week agendas for remote and on-site celebrations.
While Customer Service Week is a week-long celebration, you can choose to celebrate as much, or as little, as is appropriate for your service team and your organization.
Some people will celebrate with games, activities, and recognition each day. Others will opt for a smaller scale event. Whatever suits your needs, you'll find lots of ideas at the CSWeek.com website. To get started, here are two sample agendas. One is for an in-house celebration and the other is for a remote celebration. Use this as the framework for your event and add ideas and inspiration from the large collection of event ideas provided by real teams that celebrate each year.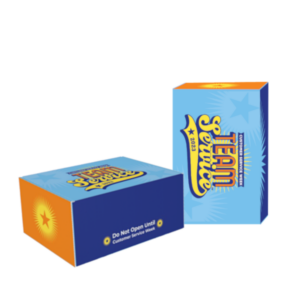 Your remote celebration agenda
The Work From Home Gift Boxes and Gummy Bear Gift Box are at the heart of your remote celebration. We deliver these colorful boxes right to reps' doors in late-September. You may also create a custom gift box for groups of 25 or more. Please call or email for details.
Two to three weeks in advance. Email Save the Date Cards to everyone on your team.
Alert them that a special gift is headed their way. But warn them not to open the box. When your gifts arrive, the message will be reinforced. The colorful gift boxes include the words, "Do Not Open Until Customer Service Week."
One week in advance. Distribute agendas. This helpful reminder will ensure that everyone is available and ready to celebrate. Our editable agenda forms match everything for your celebration.
Monday. Gather your group for a conference call or Zoom meeting. If your group is large, set up calls for individual teams with their supervisors or team leaders at staggered times.
Thank reps for their ongoing efforts, then count down to open the boxes. 10, 9, 8, 7 …
After everyone has oohed and aahed over their gifts, ask them to set up their work spaces and share a photo with the group leader.
Tuesday. Share work-space photos via Zoom, Webex, GoToMeeting or another communication platform. Now, try to match the home office to its owner. "Who's got that great desk lamp?" "Is that someone's cat behind the monitor?" Sharing work spaces will spark a new level of team connection.
Wednesday. Ask everyone to sign on to a special presentation from your organization's president or CEO. If everyone can't join at the same time, record the presentation and make it available throughout the day.
Thursday. Start the day with a fun activity like Match Up, Getting to Know You, or Count Off, which was adapted from The Big Book of Virtual Team Building Games.
Friday. Tally up the scores from all of the puzzles, activities, and treasure hunts. Announce the first place winner, and maybe a few special winners, like "best effort," and "really doesn't like puzzles."
Monday after Customer Service Week. Combine the work-space photos, scavenger hunt photos, and Match Up photos that were contributed during the week and create a collage to send to everyone as a reminder of the celebration.
Your on-site celebration agenda
This celebration includes recognition activities, team-building activities, and lots of fun. The agenda can be expanded with our pre-planned activities and with ideas from past celebrations.
Two to three weeks in advance. Distribute Save the Date Cards to everyone who will be celebrating.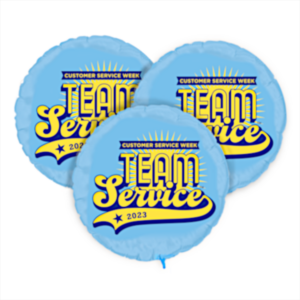 Friday before Customer Service Week. Distribute agendas for the coming celebration. Decorate the customer service department and the entire organization with Posters, Pennants, Banners, and Balloons.
Monday. Start the week with a kick-off breakfast. Take a few moments to ask all participants to sign the annual Customer Service Week Pledge. This provides an opportunity to discuss the importance of the week, the meaning of the week's theme and logo, and for everyone on your team to recommit themselves to customer service. Send everyone back to their desks with a memento of the event.
Tuesday. Bring everyone together for a pot-luck or catered lunch, then break up into smaller groups for team-building activities like our Build a Tower, Canstruction, or Team Ball.
Wednesday. Encourage a little friendly competition with a Scavenger Hunt, Penny Wars, or Chair Decorating Contest. Or host a stress relief activity. Turn the breakroom into a peaceful oasis, serve healthy spa snacks, try the 10-Second Stress Test, practice yoga and deep breathing techniques, and send everyone back to their desks with their own Infinity Cube or Shaggy Stress Ball.
Thursday. Focus on recognition with our Peer to Peer and Web of Compliments activities. And roll out the red carpet with a special cupcake and coffee break complete with Customer Service Week Table Tents and Cupcake Toppers.
Friday. Host a wrap-up party. Provide a catered lunch or pot luck to end the week on a high note. This is the time to reflect on the special celebration the team has shared. To thank all of the people who gave their time and energy to make the week a success. To make your final prize awards. And hang your Certificate of Participation.