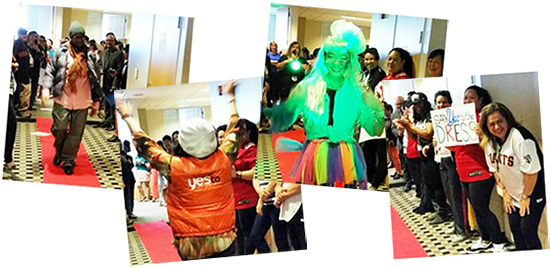 During Customer Service Week 2014, the Health Plan of San Mateo collected and donated 21 bags of clothing to a local organization, which desperately needed to restock its clothes closet.
It's a wonderful activity that you can use any time of year to boost morale while doing good.
For the event, reps were randomly assigned to one of five teams. Each team was tasked with soliciting donations of gently used clothing. The teams then selected a model or models, picked a theme, and working with the clothing they had gathered, created an outfit and sent their model down the "red carpet."
As you can see from the photos, the outfits were creative and colorful and the audience enjoyed them all.
Charitable activities were also seen in penny wars, a canned food drive, and CanStruction activity.