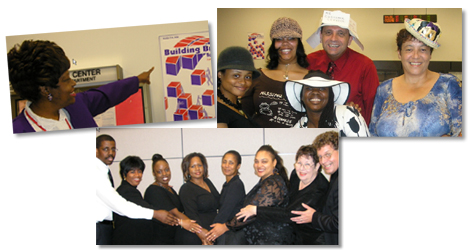 The celebration at Orkin was filled with a wide-range of activities but two that really captured the spirit of Customer Service Week focused on recognizing frontline reps for their hard work and commitment to service.
The week began with a continental breakfast and motivational comments by the department vice president. Then everyone returned to their desks hoping to be "Caught in the Act" of delivering excellent service.
This activity is based on what author Ken Blanchard calls the most powerful way to motivate employees: to catch them in the act of doing something right, and then cheer them on.
Throughout the day, many reps were "caught" and duly rewarded with small gifts. Reps names were also posted on the walls of the breakroom as the company's "Customer Service Stars."
Wednesday was Team Spirit and Peer Evaluation day. Teams dressed in their chosen colors. And participation was high because only those teams with 100% participation qualified for a team prize.
In addition, reps participated in a recognition program Orkin calls Peer Evaluation and Recognition for Excellence. Manager Janet Carmichael reports that this is one of the most popular activities. Everyone in the company is encouraged to send a note of thanks or commendation to anyone else in the company. To make the process easy, pre-printed Star Cards were created for the event. As Janet says, "It was wonderful to see how faces lit up on receiving a compliment from coworkers."