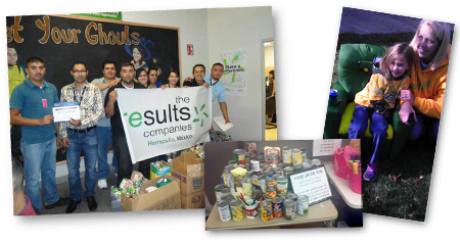 The team at The Results Company wanted to give back to their community during Customer Service Week. So each of seven locations selected a teambuilding charitable activity. Below are all seven activities. There just may be an idea to inspire your team.
Results Stuart held a Pumpkin decorating contest with all pumpkins being donated to the Blue Ridge Nursing Center. They held a 50/50 drawing and raised $150 for the Cancer Society. They also began a coat and canned food drive with all contributions donated to local food banks and the Salvation Army.
Results Streator focused their efforts on the Saving Sidney cause. Sidney is a 5-year old girl diagnosed with achalasia. At a benefit event, the team presented Sidney with $710.
Results Eastwood adopted the MyShelter Foundation and their "Liter of Light" initiative. The Foundation is dedicated to bringing eco-friendly bottle lights to communities without electricity. Team members donated 150 empty bottles as well as liquid bleach, sealants and other materials needed for the project.
As part of a site-wide team competition, Results Hermosillo collected 1,088 food items and donated them to the Banco de Aliminentos.
Results Galax donated $950 to the Twin County Humane Society. Blankets, towels, food, a dog house, and other items were also collected by staff and donated.
Results Provo held team competitions in an effort to collect nonperishable food items for the Utah Food Bank. Agents also participated in a "bike build off" in support of the Utah Foster Care Foundation.
Through various activities including raffles, "Supervisor Dials," "Pie your Manager" and a car wash, Results Winter Haven raised $375 for the Polk County Education Foundation. The foundation assists Winter Haven-area teachers by providing tools and supplies.