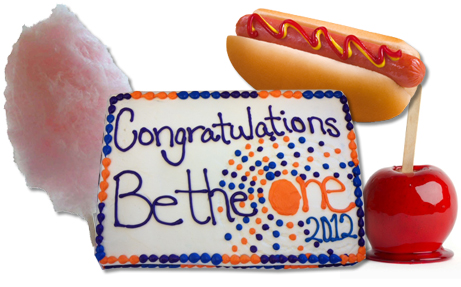 Many Customer Service Week celebrations tie-in with seasonal events such as the fall harvest, Halloween, or Breast Cancer Awareness Month.
In Winston-Salem, NC, the celebration at Aon Hewitt tied-in with the local county fair, which takes place at the same time.
The festive mood began as reps arrived on Monday morning and were greeted by their managers with music, balloons, and raffle tickets. The winner of the raffle drawing received tickets to the Dixie Classic Fair.
The fair theme continued each afternoon as managers distributed snacks including candy apples, cotton candy, and snow cones. And a classic hot dog lunch, complete with Customer Service Week cake, wrapped up the week.
Games and activities also had a fair theme. Reps tried their hands at ring toss, corn toss, a duck pond, and Wii games. There was also a little good-natured competition between Aon Hewitt service centers in different parts of the country, to see who could collect the most toys for donation to local children's centers.