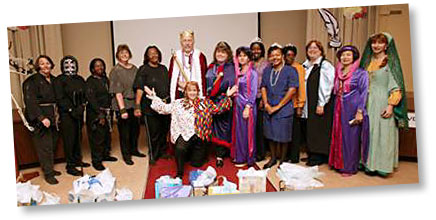 At the Virginia Department of Transportation, training is both educational and fun during Customer Service Week.
Each year, the Customer Service Week committee hosts a Video Day in which decorations, costumes, and snacks all reflect the theme of the training video.
One popular video was "The Royal Treatment," which focuses on treating customers like royalty.
Guests entered the auditorium where the video was shown by crossing a wooden drawbridge. Once inside, they found that half the room was decorated like a dungeon and half like a castle. Members of the Customer Service Week committee were dressed appropriately as characters from the movie, including a king, executioner, and jester.
As guests left the auditorium, they received magnetic cards that had been imprinted with the committee's formula for giving every customer the royal treatment.
R — Recognize and acknowledge
O — Offer assistance
Y — Yes, I can attitude
A — Agree on a solution
L — Leave them in awe