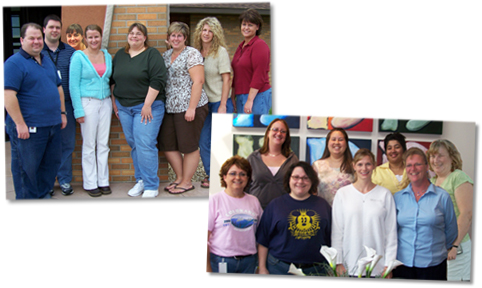 Off-site workers were included in this on-site Customer Service Week celebration through the clever use of technology.
Dairyland Healthcare Solutions started their celebration early. Goodie bags with the week's agenda, daily puzzles, a pen, and a small treat were distributed on the Friday before Customer Service Week.
Then throughout the week, reps enjoyed a muffin morning, pie and ice cream social, a training seminar, and the return of the popular cube cram in which as many people as possible cram into one cubicle. This year the team beat their previous record of 21-1/2 with a total of 24 people. Just in case you're wondering about that half, one of the reps was pregnant last year.
Finally, Dairyland created group photos of each of their customer service teams. Some teams include remote employees. To create the photos, one group photo was taken and then the heads of missing team members were added. Everyone received a copy of their complete team as a memento of the celebration.
Can you spot the off-site workers?