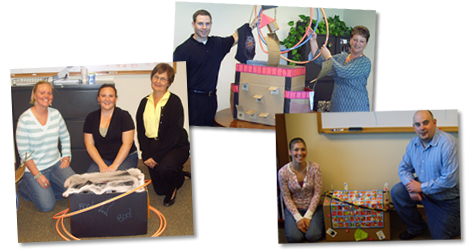 This easy to execute scavenger hunt at Stryker helped coworkers get to know each other while searching for common and unusual items.
To encourage cooperation with other departments, managers from throughout the company were invited to team with customer service reps in this exciting hunt.
Each team received a list of items that they had to collect. This included things such as a key chain with the company logo and a copy of the company's annual report along with some more difficult to find items including a hula hoop, an etch a sketch and a toilet tissue roll, which had to be decorated to look like a person.
There was also a bonus item. The company's former CEO just happens to work in the same building (albeit for another company). The bonus item was a signed copy of one of his new business cards.
A final added twist was the decorating contest. Each team received a sturdy box to hold their treasure. To qualify for an added gift, teams decorated their boxes.
One box recreated a treasure chest and another was decorated as a pirate ship complete with a mast and a toilet-tissue person on watch.