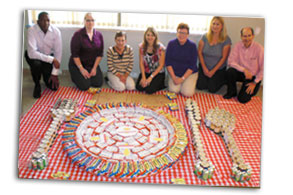 Description
This activity is based on the CanStruction activity at Kansas City Life. The goals of the activity were to encourage teamwork, have fun, and collect much needed food for a local food pantry. Click to see how Kansas City Life combined teambuilding and community service.
Materials
Each team is responsible for providing the canned goods for this activity. All materials are donated to a local food pantry when the activity is completed.
Prizes for 1st, 2nd, and 3rd place winners
CSW Scratchers for all participants
Directions
First choose a food pantry to support. Next ask all team members to scour their kitchens for canned items to donate. The food pantry may have a list of most urgently needed items that you can request.
Next divide your group into teams of five to seven people. Then divide the donated cans so that each team has roughly the same number.
When the teams are assembled explain that they will have two days to create a sculpture made entirely from cans. Teams may trade cans, or bring in additional cans, but everything is donated at the end.
When the work is completed, invite the group to view all of the CanStructions. Announce the first, second, and third place winners or allow the group to vote for their favorites.
Discussion
As you view each CanStruction, ask the team to explain their work and the process they used to arrive at the design.