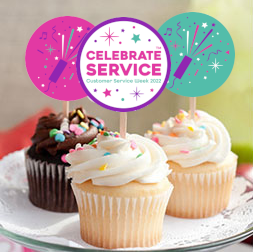 Customer Service Week Printables take your celebration from ordinary to extraordinary.
What's a printable?
It's an easy to use online document that you can print and use or email to team members. Printables add the perfect finishing touch to your event.
This year's Printables include: Customizable Invitations, Save the Date Cards, Candy Bar Wrappers, Cup Cake Toppers, and more.
Each Printable is beautifully coordinated for your event. And best of all, the Printables are free when you order celebration materials from CSWeek.com.
The first five Printables are online now. We'll be adding new Printables and bringing back some old favorites in the weeks leading up to Customer Service Week.
You can check out the Printables now and while you're at the website, place your order for Customer Service Week celebration materials. When you order by July 15, you'll save up to 20% off your entire order.