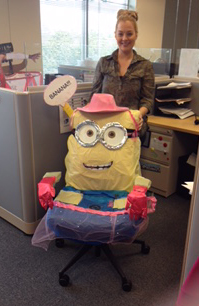 Customer Service Week activities make it fun and easy to celebrate. Each activity includes, complete instructions, leader tips, and handouts, if needed.
There are activities for on-site, remote, and hybrid teams.
New activities will be added in the months leading up to Customer Service Week. To receive announcements, sign up for free eMail Bulletins.
Okay, let's get started
If the name of the activity is BLUE, just click to view.
If the name of the activity is BLACK you must login to your account. You will have an account if you have purchased celebration materials or Access to Ready to Use Materials this year.
Login now
Purchase Decorations, Gifts, and Stress Relievers
Purchase Access to Ready to Use Materials only
Team Building
Recognition
Skill-building
For Remote Staff
Note: The Customer Service Week logo, the contents of this website, and the contents of the Customer Service Week eMail Bulletins are protected by international copyright laws and may not be reproduced. However, all of the printables on this page may be printed and used as part of your celebration.