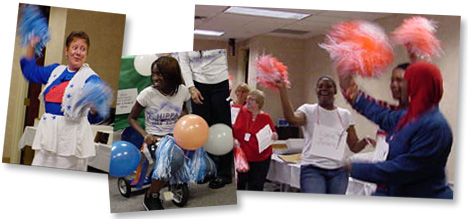 Delta Dental of New Jersey celebrated Customer Service Week with four busy days leading up to a luncheon and pep rally on Friday.
The entire company was split into teams of roughly 20 people each. Smaller departments joined together and larger departments were broken down into smaller teams. Each team was asked to create a cheer and to decorate a rolling office chair for their float in the pep rally.
During the company luncheon each team rolled out their float and performed their cheer. Ellen Schworn in the human resources department describes the scene, "We laughed as we watched associates become cheerleaders and drill sergeants before our eyes, heard clever spirit-filled rhymes, and were genuinely amazed at the floats as we saw originality beyond belief."
The winning team was called the "First Floor Flossers." This is Delta Dental after all. The team dressed in navy blue, built a float called the S.S. Spirit of Service, and created a cheer to the tune of the theme song from the television show Gilligan's Island.
While the event sparked a lot of creativity and spirit, perhaps most important of all was that everyone came away with a new appreciation of their friends and colleagues.