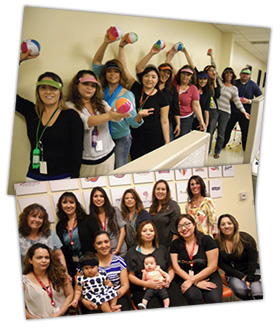 The team at Systems Services of America has been celebrating Customer Service Week for years. But each celebration is fresh, fun and creative. Last year it brought together individuals, departments, and even former staff.
The service department celebrates on three out of the five days when everyone is on-hand to celebrate together.
Manager Dianna Bailey-Thompson shares highlights of each day:
Day 1. The festivities start with a company wide kick-off breakfast. Everyone is included to "signify everyone's role in customer service," says Bailey-Thompson. The service team also played a version of Jeopardy, with questions about the company. The prize for each correct question was a dress-down pass.
Day 2. The highlight of the second day was a Ladder Ball competition. This team-building activity saw reps randomly assigned to teams and then asked to invite one person from outside of the department to join their team. There was also a special surprise when the entire operations crew arrived in the customer service department with gifts for the reps and inspiring words from the Director of Operations.
Day 3. The final day's activities focused on stress relief and included a catered lunch and visit from two reps who had left the department to have babies. "The babies were referred to as the 'CSRs in training,'" says Bailey-Thompson.