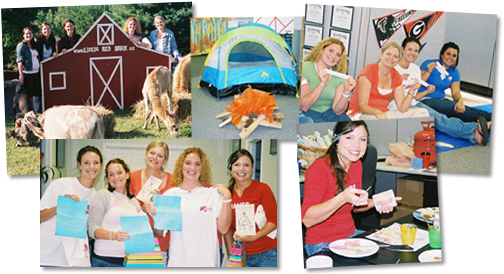 A great deal of thought and planning went into the Customer Service Week celebration at Estep Enterprises. Each day featured a different theme with coordinating decorations, food and activities. Many guests were also brought in to entertain and amaze the team.
Monday's theme was farmyard fun. The office was decorated with down home farm flavor and each associate fit right in with the cowboy hat and bandanna provided. But no farm would be complete without animals so Estep brought in a petting zoo complete with alpaca, sheep, cows, a rooster, and more.
Tuesday's theme was magic. The office was decorated in black and silver with giant playing cards and top hats. To add to the excitement, a professional magician performed for the team.
Wednesday's theme was camping. Once again, the office was decorated appropriately with a wall-sized poster depicting fall foliage, a campfire complete with tissue-paper flames, and a tent.The team enjoyed breakfast and lunch at their "campsite" as well as a little friendly competition to see who could pitch a tent, climb inside, and zip the flap the fastest. Team members then moved outside to test their skills on a giant inflatable rock-climbing wall.
Thursday's theme honored Estep's Georgia home. The office decorations were inspired by Georgia icons and included a representation of the Chatahoochee River running right through the department. An arts and crafts activity was the highlight of the day as a local paint-your-own pottery studio came to the office. Associates decorated mugs, which were then fired at the studio and returned to Estep.
Friday's theme was the Olympics. Olympic rings, glowing torches and shiny medals decorated the department. Associates competed in a range of relay races and other events to see who would bring home the gold, silver and bronze.