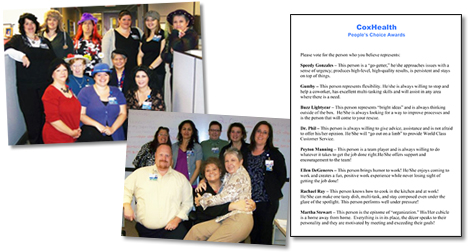 Are you a Speedy Gonzales, Gumby or Martha Stewart? That was the question that reps at Cox Health were pondering during Customer Service Week 2009.
The Physicians Billing team wrapped up it's week-long celebration with a pot luck lunch and awards ceremony on Friday. Actually, there were two types of awards. First, were the "Oscars," in which reps received recognition from management in categories such as Dedication to Accuracy and Offering Assistance.
Then there were the People's Choice Awards in which reps recognized each other. A form listing the various categories for recognition was distributed prior to Customer Service Week. Reps voted for winners in eight categories including the following:
Speedy Gonzales: This person is a go-getter, he/she approaches issues with a sense of urgency, produces high-quality results, is persistent, and stays on top of things.
Payton Manning: This person is a team player and is always willing to do whatever it takes to get the job done right.
Gumby: This person represents flexibility. He/she is always willing to help a coworker, has excellent multi-tasking skills, and will assist in any area where there is a need.
To create your own People's Choice Awards, view all eight of the categories used by Cox Health.