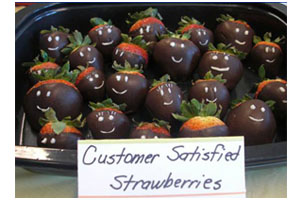 On the final day of Customer Service Week, everyone on the service team at Northwestern Mutual was invited to bring in a treat to share. But rather than simply put treats on a table, each person was asked to give his or her contribution an appropriate customer service-related name. So the table was filled with:
Courteous cupcakes
Loyal lemon bread
Added-value apple bread
Dedicated donuts
Kan-do Korean coleslaw, and
Customer satisfied strawberries.