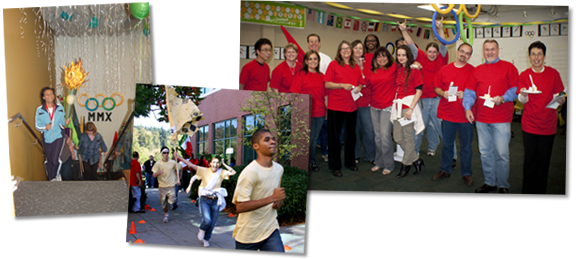 Throughout the week, customer care teams at Puget Sound Energy vied to become Olympic Champions. Hosting a wide range of activities in a variety of locations, kept each activity fresh and challenging.
The week began with the opening ceremonies on Monday with an Olympic Torch Relay through the Access Center, Billing, Vendor Collections and Payment Processing departments. At the Opening Ceremony, teams received their flags, T-shirts and goodie bags.
The games began in earnest on Tuesday with a day of trivia contests. Throughout the day staff received questions about Olympic and company traditions via email. Winners received small gifts throughout the day.
On Wednesday, the competition heated up as all 14 teams filled the parking area for activities such as bowling, tricycle races and scooter races. The final event of the day was the Outrageous Run with all of the teams participating in an outdoor obstacle course.
On Thursday evening, the service teams gathered at an indoor go-kart raceway to compete for prizes and enjoy dinner together.
The week came to an end with Closing Ceremonies which included a State of the Business report followed by recognition and awards.