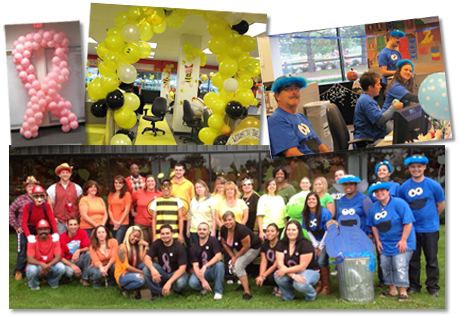 What do Cookie Monster, a swarm of giant bees, and a huge pink ribbon have in common? They were all part of the Customer Service Week celebration at Adecco Staffing's shared services center in New York.
Michele Lennon tells us that the week was full of activities including a pajama day, ugly sweater day, recognition ceremony, motivational speaker, and a barbecue lunch served by top management. But the highlight was surely the team challenge. Here's how it worked:
Each of the work teams was assigned a color and challenged to decorate their area with an appropriate theme. The orange team created a fall display with life-sized trees. The yellow team created oversized yellow and black bumble bees in their work area, which was renamed the hive, and the blue team created a Cookie Monster family reunion.
It was a fun challenge, and one which had everyone working together.