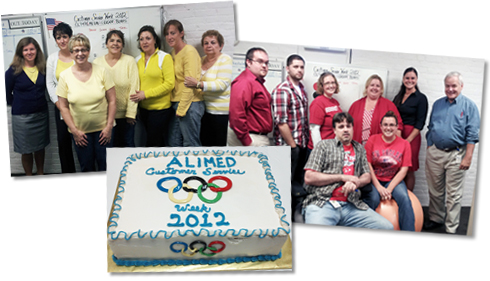 The team at AliMed celebrated Customer Service Week 2012 with an Olympic theme that focused on fun and some powerful messages.
To begin, the entire department was divided into five cross-functional groups. Each group represented an Olympic ring and a core attribute of great customer service.
Each group created materials and activities to share their attribute with the entire team. They used word searches, crosswords, tip sheets in the form of bookmarks, and more. Each day, a different attribute was celebrated:
Monday — Red — Positivity
Tuesday — Black — Empathy
Wednesday — Blue — Integrity
Thursday — Yellow — Communication
Friday — Green — Problem Solving
In addition to the color days, there were daily activities including an awards ceremony for reps with Olympic-related categories such as the AliMed Sharp Shooter, the person who has "the quickest trigger finger on the phone and is always on target."
Throughout the week, the Olympic Medal Leader Board showed each team's medal count. Winning teams received raffle tickets, and prizes were awarded at the end of the week.