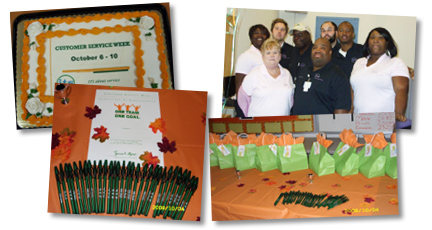 Carolyn Reynolds describes her celebration as, "Customer Service Week on a dime." But there was no skimping when it came to planning a week full of activities, beautiful decorations, and thoughtful gifts.
And best of all, it provided the Metro Government of Nashville and Davidson County Information Technology Services Technical Support Center "a much needed opportunity to thank our internal and external customers, and, for the department leaders to recognize our Service Desk Analysts for the terrific job they do."
Highlights of the week included:
Team members kicked off the week by signing the Customer Service Week pledge and recommitting themselves to their service mission.
Throughout the week staff acknowledged the great service, follow-up, phone etiquette, and teamwork of their colleagues with Caught in the Act Cards.
On game day, there was something for everyone as team members participated in basketball, pool, Mad Gab, and checkers tournaments throughout the day.
A stress-relief break, featured ice cream sundaes and stress-relief goodie bags.
Throughout the week, coins were awarded both for participation and for winning events. These coins were very important because the team member with the most coins received a grand prize and all others were entered in a prize drawing. The order of the draw was based on the number of coins awarded.