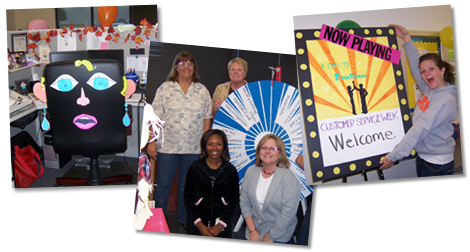 The service team at United Stationers Supply Co. has been celebrating Customer Service Week for several years. This year's event featured the return of their popular prize wheel, known as the Wheel O' Fun, plus many creative new ideas.
Each morning members of the leadership team greeted associates at the door. Theme days, puzzles and activities, and a special breakfast or lunch each day rounded out the week.
But the activity that really caught our attention was called "Pimp Your Ride." The activity is loosely based on the TV program, "Pimp my Ride." In each episode a dilapidated car is restored and customized in an over the top effort to reflect the owner's personality and interests.
In this office edition, associates were asked to customize their own rides — otherwise known as their desk chairs. It was all part of the "awesome week" at United Stationers Supply Co.