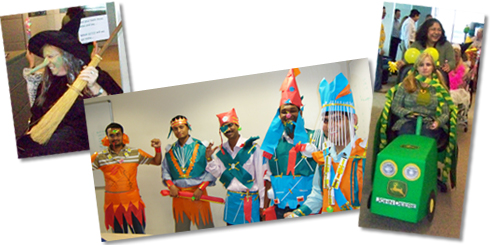 The celebration at Approva Corporation in Virginia was designed to include everyone from local service staff to support staff over 8,000 miles away. To get everyone involved three different types of events were organized.
Department-Wide. Each day, members of the service and support team received a small token of management's appreciation. By the end of the week everyone had a treasure chest of mementos from the week. The team was also treated to a thank-you lunch, which was hosted by the Senior Vice President of Global Customer Solutions. But the highlight was surely the desk-chair parade. Teams of service and support staff worked together to transform their chairs into festive "floats" for a parade through the department.
Company-Wide. The entire company joined in a mid-week celebration with a giant cake and words of thanks and encouragement from the company CEO.
World-Wide. Finally, the off-site service and support team in India celebrated Customer Service Week as well. They hosted their own parade with amazing costumes made entirely from paper. While the groups are over 8,000 miles apart, they bridged the distance by sharing photos of their celebrations.