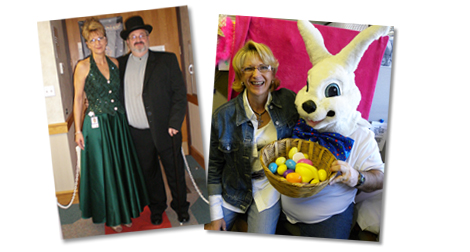 Each year, the team at Health Plan of the Upper Ohio Valley finds an opportunity to take individual and group photos during Customer Service Week.
The 2009 celebration included a "Night at the Oscars" party with dinner, goodie bags and more. The paparazzi were on hand to photograph each rep as she walked down the red carpet. Because there is only one man in the department, he individually escorted each woman and posed for a photo.
The following year, the team celebrated with a holiday theme and the lone male rep dressed as the Easter Bunny. He posed for photos with each rep and distributed plastic eggs filled with surprises after each photo was snapped.
The photos are wonderful momentos of the celebration and are sure to bring a smile for years to come.
If you don't have an opportunity to take team photos, consider distributing disposable cameras so that you are sure to capture the fun.