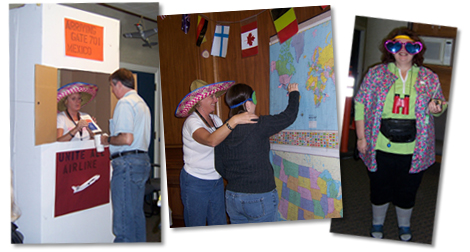 The team at Masterbrand Cabinets celebrated Customer Service Week with a trip around the world. Well, okay they really did it all without ever leaving home. But what a trip it was …
The week began with associates traveling to the MBCI (Masterbrand Cabinets, Inc.) Airport where they were greeted by supervisors who handed out passports, itineraries, and snacks for the journey.
Each day, associates returned to the airport where they boarded a "Unite All Airlines" flight to their destination. They received a goodie bag with items for their trip, enjoyed a lunch of regional specialties, and played travel and location themed games. Here are the details:
Monday — Flight to Mexico. Each associate received a goodie bag containing a stress relief ball, Mexican jumping beans, and candy. Lunch included tacos, chips, and salsa. And the games included pin the flag on Mexico, ring toss in which rings were tossed onto a cactus, a memory game in which associates were shown travel-sized items for 15 seconds and asked to recall as many items as possible.
Tuesday — Flight to Hawaii. As associates arrived at the airport, they were greeted with a traditional Hawaiian lei and a goodie bag filled with candy, sea shells, and a bottle of bubbles. Lunch featured Hawaiian pork sandwiches. And the games included pin the flag on Hawaii, a timed hula hoop contest, and a golf putting challenge.
Wednesday — Flight to China. At the airport, associates received Chinese take-out boxes filled with goodies such as chop sticks, a compass, and candy. Lunch included egg rolls and various lo mein dishes. And the games featured ping-pong, a suitcase packing game, and a timed game that involved putting various objects into a take-out container box using chopsticks.
Thursday — Flight to France. Each associate received candy and a stress-relief toy for the journey. They enjoyed a lunch of croissant sandwiches and non-alcoholic Champaign punch. The day's games included a French history quiz, pin the flag on France, and a painting contest.
Friday — Flight to New York. To wrap up the week, associates visited the Big Apple. At the airport they received a top hat filled with candy and a stress-relief ball shaped like an apple. The day's meal included New York-style pizza and cheese cake. Games of tacky tourist, pin the flag on New York, and an adaptation of the television show Cash Cab rounded out the celebration.