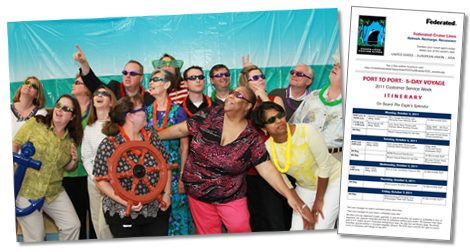 The team at Federated Investors celebrated Customer Service Week with a five-day cruise.
The week got underway with a kick off "Bon Voyage Breakfast." The Sansom Auditorium was transformed into the cruise ship's Lido Deck. Breakfast was served and the head of sales discussed the importance of excellent customer service.
Throughout the week daily events and activities supported the cruise theme. Staff members dressed in resort casual, visited popular ports of call such as the popcorn bar, had their photos taken with the captain, and even made ship-to-shore deliveries of cakes to business units that support the service team.
To view the complete itinerary for the five-day cruise click below. Don't miss all of the clever touches such as the ship's name, welcome from the hospitality team, and website set up just for this event.