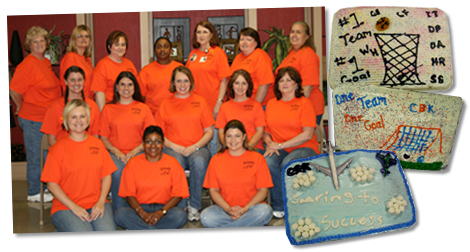 The team at the CBK celebrated Customer Service Week with a different activity each day. This included a creative dress-up day and a skill-building cake-decorating contest.
To kick-off the week reps were asked to dress as what they wanted to be when they grew up. You can just imagine a call center filled with ballerinas and princesses, firefighters and football players.
Next the team competed in a cake-decorating contest. The staff was divided into teams of two. Each team received a sheet cake, and an assortment of frostings. They were challenged to create a theme cake for the week.
More than just a decorating contest, this was also a communication building exercise. After the reps briefly discussed how to decorate their cakes, one rep left the room while the other worked. After several minutes the reps switched places. It was up to the second rep to complete the cake based only on their conversation and the work that had already been done.