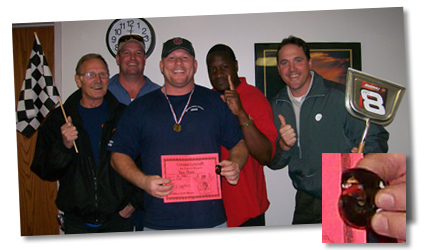 When ODW Logistics celebrates Customer Service Week, they have to overcome a few obstacles. Two of the most significant being that there are 300+ people celebrating and that they work in seven different buildings at the Columbus, OH, campus.
Nevertheless, they put together a number of activities that everyone could participate in and scheduled them carefully throughout the week.
In addition, the entire company got together for a tailgate party on Friday. As the culmination of the week this was the time to vote for customer service rep and warehouse person of the year and for winners of the various challenges to receive their prizes.
Four of the featured challenges were:
Crab races — Hermit crabs and their handlers competed in a fast-paced battle of speed and skill.
People poker — Each person received one card per day. Hands were compared throughout the week and winners announced at a tailgate party. A total of 28 decks of cards were required for this one massive game of poker.
Walk your way to wellness — Prizes were awarded to employees who logged the most miles during the week.
Announcement (word) bingo — Prizes were awarded to employees who completed their bingo cards during senior management's weekly companywide address.