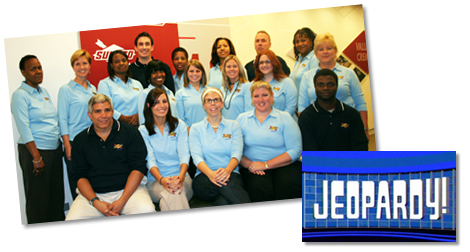 A fun-filled afternoon playing the game-show favorite Jeopardy! was the highlight of a very full Customer Service Week at Sunoco Chemicals.
The questions were developed based on the company's customer service practices and provided a fun and engaging way for reps to show off their skills and job knowledge.
So how exactly does Jeopardy! work?
The game consists of a series of questions, which are asked in the reverse of the standard quiz format. Three contestants are given the answer and vie to be the first to come up with the correct question.
In the game show there are two main rounds, each with five answers of different prize amounts and difficulties in six different categories. The beauty of this game is that it can be easily scaled up or down to meet your needs.
Answers and the questions might include procedures specific to your organization or general service guidelines like these:
A: Are you able to hold?
Q: What should you say before placing a caller on hold?
A: To expel or relieve one's emotions
Q: What is to vent?
A: Smile
Q: What do you do before picking up the phone?
In addition to playing Jeopardy!, the team started the week with a kickoff breakfast with their management team and internal customers. They also created a movie from photos of their teambuilding events throughout the year, enjoyed daily giveaways and snacks, played puzzles and games, and capped off the week with 15-minute chair massages.
Additional popular game show activities include Fear Factor, Amazing Race, Cash Cab, and Survivor.