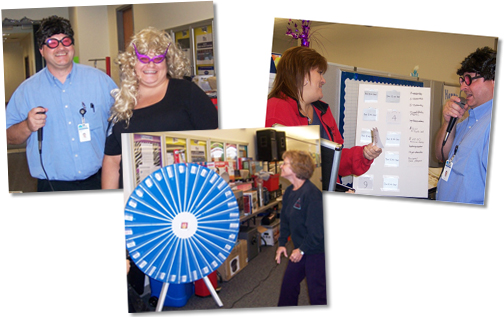 Each year, the leadership team at United Stationers plans a full week of theme days, games, food, and fun for over 250 frontline associates.
One on the most popular activities is participating in classic TV game shows including Let's Make a Deal, The Price is Right, Jeopardy, and Deal or No Deal.
The leadership team skillfully adapts these games to the office environment and creates everything that's needed from a prize wheel, to questions, to glamorous hosts. In keeping with the spirit of fun, the hosts are "Jack Potts" and "Miss Terry Prize."
Contestants are alert throughout the day for a call and invitation to "come on down" and play games. Winners may choose from a huge pile of exciting gifts including cookware, a tablet, gift cards, and more.
Additional popular game show activities include Fear Factor, Amazing Race, Jeopardy!, Cash Cab, and Survivor.