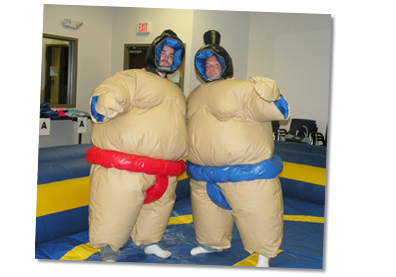 "One of the most memorable weeks in call center history!!!"
That's how Brian Doran described the Customer Service Week celebration at 5LINX Enterprises. And clearly, the organizing committee went all out in planning an exciting week.
Activities, food, and fun were featured each day, but the main event was on Thursday when the department was turned into a carnival complete with decorations, 12 games of chance, and a Sumo Wrestling ring. The inflatable ring and costumes allowed agents to compete against supervisors and the secretarial staff to take on the marketing department in this ancient sport.
Leading up to the carnival was Breast Cancer Awareness Day. Everyone wore pink to show their support. Pink cupcakes were delivered to each work station. And the company's founder made a donation to the American Cancer Society in honor of his staff.