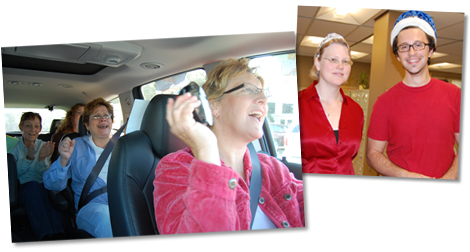 Throughout Customer Service Week, reps at Kansas City Life Insurance Company, participated in an activity modeled on the Discovery Channel hit, Cash Cab.
On the program, unsuspecting New Yorkers hail a taxicab only to discover that they have entered a game show and can win cash for answering the driver's questions correctly.
In the Kansas City Life version, reps were asked to report to the front door of the building at designated times throughout the day. Awaiting them was a manager's car decorated with play money. After the reps piled in and the rules were explained, the car took off on laps around the parking lot. Reps responded to a range of questions receiving play money for correct answers. However, after three incorrect answers, the ride was abruptly over, reps exited the car, and walked back to the office.
The play money reps won could be used to buy raffle tickets for daily prize giveaways or to vote for the king and queen of service.
Additional popular game show activities include Fear Factor, Amazing Race, Jeopardy!, and Survivor.