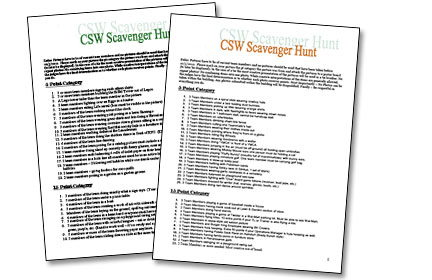 Scavenger hunts have long been a popular Customer Service Week activity. They can be used to build teamwork, flex creative muscles, and just have fun.
Patty Dillon at HGS creates an annual scavenger hunt for her team that does all this and more. It's called a Photo Scavenger Hunt and teams are asked to take photos of themselves doing very specific things such as:
Three team members in one bathroom stall
Three team members jumping in the air
Three team members in a blow-up pool
Some of the photos are worth five points, but some are worth as much as 50 points based on level of difficulty and creativity. The team to accumulate the most points wins.
Each team also mounts its pictures on poster board to share with the entire department.
This creative scavenger hunt can be incorporated into almost any celebration. Click the links below to see the rules and lists of photos requested.
2011-CSW-Scavenger-Hunt

2012-CSW-Scavenger-Hunt