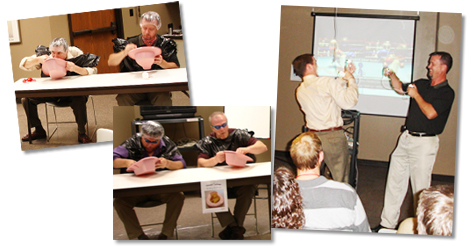 Television programs have inspired many Customer Service Week celebrations, including this one at CNA Surety.
Each year the service team prepares a challenge for their CIO and directors. One popular challenge was based on the TV show Fear Factor.
The show pits contestants against each other in a series of physical and mental challenges in which the contestant must do something frightening or gross.
For the CNA version, the management team participated in a physical challenge (Wii boxing); a tactile challenge, in which they put their hands into boxes full of Jell-O and pudding and tried to identify buried computer parts; and a mental challenge in which the contestants had to eat yellow Jell-O from a bed pan as quickly as possible.
Fortunately, Deb Anderson reports that everyone on the management team is a good sport and a fierce competitor, and that they are already buzzing about next year.
Additional popular game show activities include Amazing Race, Jeopardy!, Cash Cab, and Survivor.