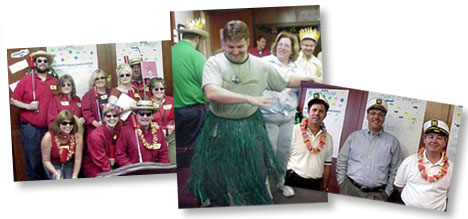 At Manchester Tank's corporate headquarters the entire staff participated in a Customer Service Week activity based on the popular television series Survivor.
Shelia Lindsay, who organized the week, describes it as their "most successful celebration." Here's why:
On Monday morning each employee received a bandanna, which indicated which of three interdepartmental "tribes" they belonged to. Team captains were assigned when three vice presidents drew "tiki" cups from a box.
Throughout the week, the tribes competed in team building activities. Points were awarded for successfully completing the challenges and for each of the following:
Most original tribe name
Most team spirit
Most participation
Best mascot, and more.
Tribes could also lose points. For example, a team member not wearing their bandanna cost the tribe one point, and being late to a tribal council meant the loss of 10 points.
A typical team building challenge was made up of several tasks, each of which had to be completed by a single team member. This might include:
One task that required strength
One task that required agility
One task that required dexterity
The remaining tasks were trivia questions in the categories of history, geography, entertainment, general knowledge, and sports.
On Friday, the tribes assembled for a final "tribal meeting." Each member was asked to say something they had learned about another tribe member.
Shelia reports that, "considering we have worked together for years, it was very eye opening to hear comments like, 'I didn't know she was so dedicated, creative, smart, knew so much about our customers, our products, has a great sense of humor, has great team building skills, and so forth.'"
Additional popular game show activities include Fear Factor, Amazing Race, Jeopardy!, and Cash Cab.